POST<<
Jedditor Lebbisun - shipments
yeah im back. amazing what you can accomplish with a little peace and quiet.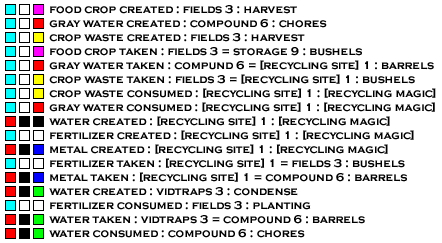 a little mixed up and hacked together but all the revelant info is here. as you can see most of the shipments get consumed or stored somewhere to be used later. but shipment 256 never did.

hmmmmmmmmm.
---
Shipment codes
- by Keriwen Edrekar at Sun, 15 Jun 08 06:02:45 -0400
Wow...I never realized it before, but the System seems to have its own way of speaking. Almost its own language. Am I right, Jedditor?
---
What's going on?
- by Alvyurin Ekkatran at Mon, 16 Jun 08 03:43:19 -0400
Jedditor, what HAVE you been up to all this time? I'm glad you show up for a meal every couple of days, so we know you're all right...but do you HAVE to be so secretive?
---
Last known
- by vidstudent at Wed, 18 Jun 08 19:18:07 -0400
Hey, it's been a while. Logistical wackiness does occur. The best thing to do would be to start from the last known location of shipment 256. Figure out where it was, where it had been before that, and where it was to travel from there. Trace its path, and look for clues. Possibilities range from misplaced (person sent it somewhere other than where it was to go) to taken (by anyone or anything) to destroyed (same as taken, except much less for anyone to get out of it). Two things that keep these sorts of problems down are tracking and chain of custody. Your tracking seems just about in place (this was made, this is what it was used for), but who is in charge of moving x or claiming y as received? I know the system is on lockdown at the moment, but I would recommend having trustworthy individuals come back online and log into the system regularly with data regarding shipment disposition. This will at least let you know whom to talk to when shipments disappear.
---
barrels
- by Jedditor Lebbisun at Fri, 20 Jun 08 05:20:08 -0400
vidsudent! good to hear from you...uh...is it vidstudent? crap, we might have been saying it wrong all this time...anyway, youre a man after my own heart. those are precisely the kinds of investigations ive been busying myself with recently. the chart summarizes my findings. shipment 256 was created, then...it vanished. a search of the site turned up nothing. even the barrels are missing, as far as we can tell.
---
Prevention is easier than diagnosis
- by vidstudent at Tue, 24 Jun 08 07:41:04 -0400
...right after creation? Okay, then...are we sure it existed? Assuming we are, we can rule out movement problems. The lack of evidence suggests theft instead of destruction, though we certainly can't rule out the latter. Again, I'm not sure of your technological or magical capabilities, but if this theft becomes more of a problem than one shipment, something physically present with the shipment that could be remotely tracked might be beneficial. I wish I could be a bit more helpful with this one. Also, look into sticking some sort of surveillance on the storage facility where this occured, and make sure it keeps a record of what it sees and hears.
---
tracking
- by Jedditor Lebbisun at Tue, 24 Jun 08 10:02:49 -0400
surveillance? part of me wants to say, whats there to surveil, its a desert. on the other hand, the fact that were talking about it at all means that theres something...i bet we could do contagion tracking though.
---
Surveillance
- by Pallantar Akarat at Tue, 24 Jun 08 10:21:42 -0400
We don't have the manpower to watch important locations ALL the time.
---
wondering
- by Alvyurin Ekkatran at Tue, 01 Jul 08 03:03:54 -0400
Jedditor, is that REALLY what you've been spending all your time on?
---
...
- by Jedditor Lebbisun at Tue, 01 Jul 08 03:06:33 -0400

---